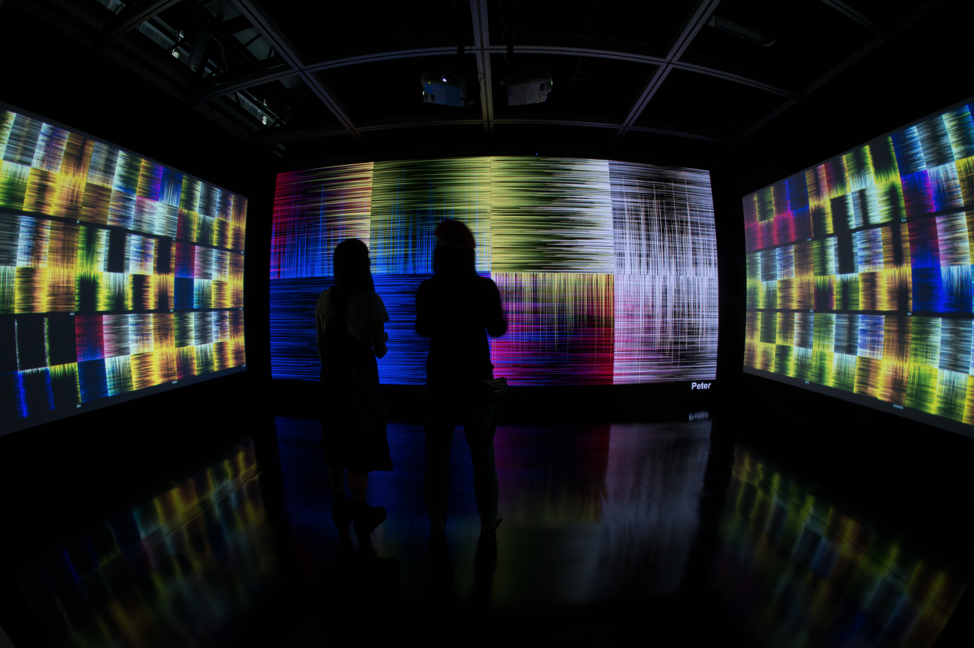 Photo courtesy John Wong, artist, co-founder, and CEO of a creative agency, dontbelieveinstyle (DBIS), since 2005.
For Immediate Release
20 May 2019
Media Contact:
Emily Drake
Media Relations Manager
+ 1.312.673.4758
emily_drake@SIGGRAPH.org
SIGGRAPH 2019 to Bring Immersive Art Exhibit to Downtown Los Angeles
One-week Engagement to Showcase 12 Works From 5 Countries, 6 U.S. States
CHICAGO—For one week only, experience immersive art from across the globe this summer during the SIGGRAPH 2019 conference. The SIGGRAPH 2019 Art Gallery exhibit will run 28 July–1 August at the Los Angeles Convention Center. Known for its diverse, global, and innovative community, the event is a melting pot for researchers, artists, and technologists, among other professionals.
In its 46-year history, the SIGGRAPH conference has consistently offered a space to inspire the next generation of creators, inclusive of gender, race, ability, and beyond. The Art Gallery is a big part of that, and exists as a space where artists bring their vision to life through advanced technology. After being exclusively curated for the last five years, the program returned to its jury roots for SIGGRAPH 2019.
A theme of "Proliferating Possibilities: Speculative Futures in Art and Design" permeates through each chosen work as submitting artists were asked to contemplate, "What solutions might we need to thrive in a future full of promise and unknowns?"
"The SIGGRAPH Art Gallery has always existed as a space that showcases compelling artistic vision alongside technological innovation," said SIGGRAPH 2019 Art Gallery Chair Brittany Ransom. "I am thrilled to bring an experience to downtown Los Angeles that both industry professionals and locals can enjoy — even if for just one week. I am also especially proud to have artist representation from Japan, Hong Kong, South Africa, the United Kingdom, and the United States."
Highlights from the 2019 Art Gallery include:
TransVision: Exploring the States of the Visual Field in the Age of Extreme Augmentation
Artists: Jiabao Li, Honghao Deng, and Panagiotis Michalatos, Harvard University
Through three extreme ideal types of perceptual machines, TransVision questions the habitual ways we interpret the visual world intervened by digital media: Hyper-sensitive vision (speculation on social media's amplification effect and our filtered communication landscape); hyper-focused vision (an analogue version of searching behavior on the internet); and hyper-commoditized vision (monetized vision with omnipresent advertisement).
Noise Aquarium
Artists: Victoria Vesna, UCLA; Martina Fröschl and Alfred Vendl, University of Applied Arts Vienna; and, Glenn Bristol, United Motion Labs
The interactive installation presents an aquarium full of plankton in an idyllic immersive experience which presents selected plankton organisms as huge as they are important for our ecosystem. The interaction deals metaphorically with the problem all humans face: Our needs versus the restricted resources of Earth. Find your balance.
RuShi (2018)
Artist: John Wong, John Wong Art
"Big Data is the new superstition now!" Wong's work is about prediction, fate, and superstition, questioning what we really need at the age of AI. The audience will only see the flow of colors. It goes back to the basic. Without the interpretation of the storyteller, I want the audience to see only the beauty of balance.
The gallery is open to the Full Conference Platinum, Full Conference, Business Symposium, Select Conference, and Experiences registration levels. Learn more about the event and register here: s2019.SIGGRAPH.org/register. To read about each selected work in-depth, look for a special SIGGRAPH edition of The MIT Press' Leonardo online on 26 July 2019.
###
About ACM, ACM SIGGRAPH and SIGGRAPH 2019
ACM, the Association for Computing Machinery, is the world's largest educational and scientific computing society, uniting educators, researchers, and professionals to inspire dialogue, share resources, and address the field's challenges. ACM SIGGRAPH is a special interest group within ACM that serves as an interdisciplinary community where researchers, artists, and technologists collide to progress applications in computer graphics and interactive techniques. The SIGGRAPH conference is the world's leading annual interdisciplinary educational experience for inspiring transformative advancements across the disciplines of computer graphics and interactive techniques. SIGGRAPH 2019, the 46th annual conference hosted by ACM SIGGRAPH, will take place from 28 July–1 August at the Los Angeles Convention Center.