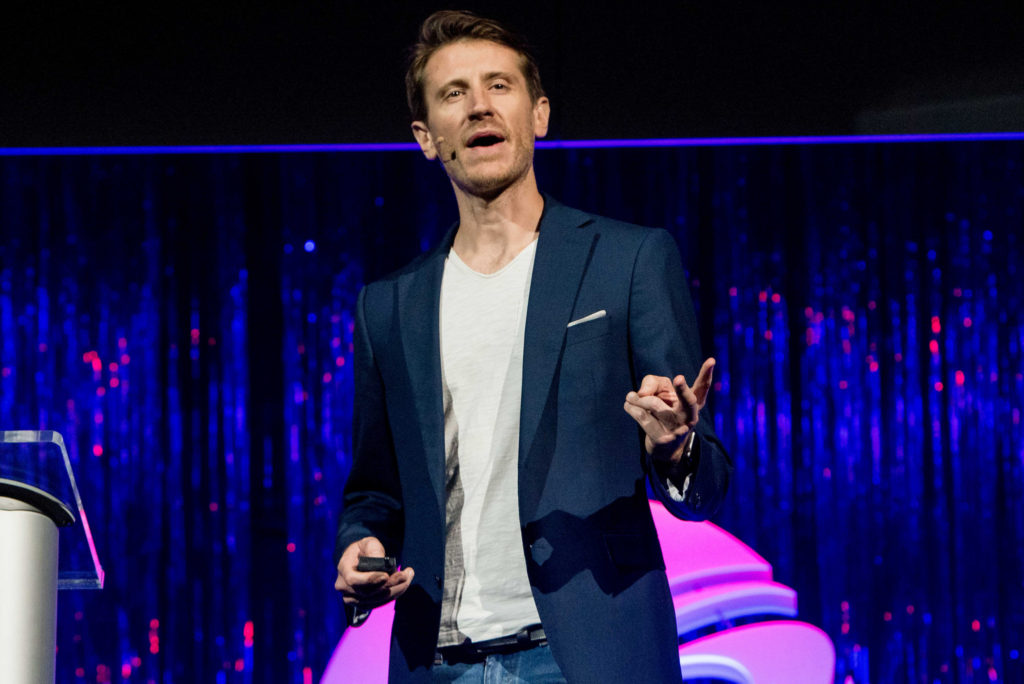 "Photo of Pol Jeremias-Vila at the SIGGRAPH conference in Los Angeles by John Fujii © 2017 ACM SIGGRAPH"
For Immediate Release
21 January 2019
For further information:
emily_drake@siggraph.org
Making Moves: ACM SIGGRAPH Reveals Leadership for 2021 Conference in Los Angeles
CHICAGO—Inching closer to its 50-year milestone, the 48th ACM SIGGRAPH conference appoints Pol Jeremias-Vila, of Pixar Animation Studios, as chair. Jeremias-Vila, originally from Barcelona, Spain, is a lead graphics engineer with the renowned animation house and has been a consistent force in helping to elevate the conference in recent years.
"Pol has proven time and again that he is a visionary, and we cannot wait to see how that translates to SIGGRAPH 2021," noted SIGGRAPH Conference Advisory Group Chair Marc Barr. "He was a key driver of expanding on our VR offerings to the storytelling arena with the VR Theater, which has demonstrated its staying power and is currently prepping for a third year as part of the Computer Animation Festival."
Jeremias-Vila's visionary status does not stop there. In addition to his credits on films such as "Incredibles 2," "Coco," and "Finding Dory," and games like "Star Wars 1313," he is a co-founder of Shadertoy.com, a website that enables graphics enthusiasts to create and share rendering knowledge.
Since 2012, Jeremias-Vila has been actively involved with ACM SIGGRAPH, holding multiple roles on past conference committees, including as Computer Animation Festival Director, Real-Time Live! Chair, and Virtual, Augmented and Mixed Reality Chair, as well as serving as a content contributor and juror. He holds a M.S. in computer science from the University of Southern California.
"I cannot wait to get to work planning SIGGRAPH 2021 in L.A.," said Jeremias-Vila. "The conference has been a huge part of my life, and the opportunities for inspiration are endless — not to mention the chance this role affords me to give back to an amazing creative community, my computer graphics family."
SIGGRAPH 2021 will take place at the Los Angeles Convention Center, 1–5 August 2021. As interest in the conference grows — SIGGRAPH 2018 hosted more than 16,500 attendees from 87 countries — and excitement builds for SIGGRAPH 2019 (also in Los Angeles), Jeremias-Vila and team are well positioned for an unforgettable ride.
Pol Jeremias-Vila will follow SIGGRAPH 2020 Conference Chair Kristy Pron, media arts and pipeline developer at Walt Disney Imagineering, set to take the conference on its first visit to Washington, D.C. next year.
For more information on ACM SIGGRAPH visit SIGGRAPH.org.
###
About ACM, ACM SIGGRAPH and SIGGRAPH Conferences
ACM, the Association for Computing Machinery, is the world's largest educational and scientific computing society, uniting educators, researchers, and professionals to inspire dialogue, share resources, and address the field's challenges. ACM SIGGRAPH is a special interest group within ACM that serves as an interdisciplinary community for members in research, technology, and applications in computer graphics and interactive techniques. SIGGRAPH conferences, held in North America and Asia, are the world's leading annual interdisciplinary educational experiences showcasing the latest in computer graphics and interactive techniques.